Dr. Alex Kudrin
Medical Assessor in Biological Unit of Licensing Division at MHRA (London, UK),
Former Medical Director, Takeda (UK)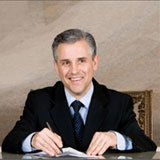 Prof. Juozas Galdikas was born on 31 of October, 1958 in Druskininkai, Lithuania. He is married; wife Vilija is biologist. They have two sons and a daughter.
Education and experiences:
In 1976 he finished Druskininkai Secondary School No.1. At the same time he finished Druskininkai Children School of Music (piano), Children School of sports (handball), and Mathematicians Home Studies School, Faculty of Mathematics and Mechanics, Vilnius University.
Awards:
1989 – IV'th International Symposium of Vascular Surgery, New York, USA
1992 – First Forum of European Young Vascular Surgeons, Berlin, Germany
1994 – World Congress of the International College of Angiology, New York, USA
T he Most Important Achievements
Prepared amendments to the laws, needed for the introducing of the Compulsory Health Insurance and in 01.07.1997 started the reformation of Lithuanian Health system from Semashko model (centralization of management and financing of health system) to Bismark model (insurance based health system with the principles of solidarity, accessibility and equity). At the same time additional reforms have been performed:
1. State health care institutions became public institutions
2. Establishment of more than 60 nursing institutions (one bed to 1000 inhabitants)
3. State Compulsory Insurance Fond budget separated from state and municipality budget. The Council Of State Compulsory Insurance Fond (12 members) and State Patient Fond are in charge of this budget.
4. The health services financing model "money after the patient" started to implement. Patients have rights to choose a family doctor, specialist or consultants in all Lithuania. In the health care institutions all health care services and all visits of patients are paid, the medicine reimbursement system was implemented.
5. Every health service was tarrified and according to this tariffs the State Patient Fond started to finance health care institutions.
6. Equal rights for state and private medicine for getting financing from the Compulsory Insurance Fond budget were established (contracts with the State Patient Fond).
7. The main integration of family doctors to the health system with a lot of investments, devoted to the establishment of rooms, buying of medical facilities and qualification trainings.
8. The appropriate model of health system and administrative changes gave an opportunity for health care institutions to return debts (about 400 mil. Lt). The salaries of medical staff were increased about 48 percent (from 473 to 701 Lt 1996-1997), salaries of doctors were increased from 677 to 947 Lt (about 40 percent).