Prof. Lina Emil Bajjali
Head of Registration Department,
Jordan Food & Drug Administration,
Jordan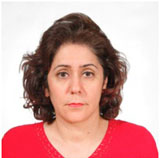 Freda is Pfizer's Chief Medical Officer and a member of the company's Executive Leadership team. As the company's senior physician, she leads Pfizer Medical, the division responsible for the safe, effective and appropriate use of Pfizer human health products around the world.
Before joining Pfizer in 2009, Freda held senior leadership positions in medical affairs and new product development with Vertex, Bristol-Myers Squibb, Pharmacia and Lilly. Prior to joining the research-based biopharmaceutical industry, she led research projects for the National Institutes of Health and served as vice chairperson and associate professor of the Department of Psychiatry at Howard University College of Medicine. Trained as a psychiatrist, she launched her medical career in frontline patient care and became well known for her work on the effects of mental illness on families and communities, and on issues of health care disparities.
In 2010, Freda was appointed by the Obama Administration to the inaugural Board of Governors for the Patient-Centered Outcomes Research Institute. She also serves on the boards of The Institute of Medicine's Forum on Drug Discovery, Development, and Translation; The Foundation for the National Institutes of Health; The Harvard Medical School Board of Fellows; the Society for Women's Health Research; and the American Heart Association's "Power to End Stroke" initiative. She is a Fellow of the New York Academy of Medicine and a Distinguished Fellow of the American Psychiatric Association
In 2010, Dr. Lewis-Hall was awarded an honorary doctorate from the University System of Maryland. In 2011, she was selected as the Healthcare Businesswomen's Association's "Woman of the Year." Also in 2011, she received the "Power to End Stroke" Legacy Award. She has been named among the nation's 75 Most Powerful Women in Business by Black Enterprise magazine and among the 25 Most Influential African-Americans in Health Care by Black Health magazine.
Dr. Lewis-Hall earned her undergraduate degree at The Johns Hopkins University and her medical degree from Howard University College of Medicine. She and her husband Randy Hall reside in New York City and have three grown children.
To Connect and Network with Freda C. Lewis-Hall Click Here