Mr. K V Subramaniam
President & CEO,
Reliance Lifesciences,India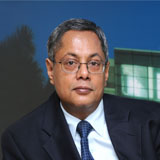 K.V. Subramaniam is the President and CEO of Reliance Life Sciences, a research-driven organization developing business opportunities in biopharmaceuticals, pharmaceuticals, clinical research services, regenerative medicine and molecular medicine. Reliance Life Sciences is part of the Reliance Group of companies in India, with group revenues of US$ 67 billion in the energy and materials value chain.
K.V. Subramaniam is a Chemical Engineer from Madras University, an MBA from the Indian Institute of Management, Ahmedabad, a Chartered Financial Analyst and a Fellow of the Indian National Academy of Engineers. In a career spanning 31 years with the Reliance Group and Indian Petrochemicals Corporation Ltd., he has been responsible for several functions – from corporate business development, corporate planning, project management and economic analysis to marketing; in a range of businesses – from petrochemicals, energy, alternative energy, infrastructure, insurance, education, health care and agriculture to life sciences. al degree with a specialization in cardiology from Paris University. He also holds a DESS (MBA) from La Sorbonne, Paris.
To Connect and Network with Mr. KV Subramaniam Click Here