Dr. Baoping Wang
President and Head
Novo Nordisk R&D Cente, China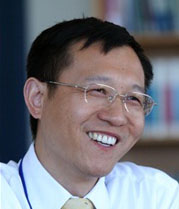 Dr. Wang is President and Head of Beijing Novo Nordisk pharmaceuticals Co. Ltd. (NNST). NNST is also known as Novo Nordisk China R&D center, the first R&D center set up by a global pharmaceutical company in China.
Baoping received a BS degree in Applied Chemistry from Shanghai Jiao Tong University in 1982, and a PhD in Genetics from University of Minnesota in 1990. He did his postdoc research at Harvard Medical School where he then served sequentially as an Instructor and Assistant Professor. His research area focused on molecular and cellular immunology.
Baoping joined industry when he returned China in 1998 to head a health care group in Novo Nordisk China R&D center, which was renamed Novozymes China R&D center when Novo Nordisk A/S demerged into two companies: Novo Nordisk A/S and Novozymes A/S in 2000. In 2001, Novo Nordisk established a new R&D center based on the previous health care group, Baoping has been the head of the center since its founding. From April 2007 to 2010, Baoping was a vice president of Novo Nordisk R&D. From 2011, he serves as President of NNST.

To Connect and Network with Dr. Baoping Wang Click Here