Ms. Arpah Abas
Deputy Director/ Head of Biotechnology Section
Centre for Product Registration
National Pharmaceutical Control Bureau
Ministry of Health ,Malaysia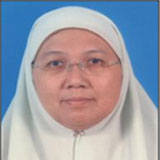 Arpah Abas graduated in Pharmacy is now head of Biotechnology Section, Centre for Product Registration at National Pharmaceutical Control Bureau (NPCB), Ministry of Health Malaysia. She joined NPCB in 1990 and has vast experience in regulatory controls of pharmaceuticals.
Over the past two decades, progress in biotechnology has led to a significant increase in the number of biopharmaceuticals including protein based medicines. Hence, she was instrumental in setting up the Biotechnology Section in 2002 and is responsible for establishing a comprehensive framework on the regulation of biopharmaceuticals. This includes the Drug Control Authority's Guidelines for Registration of Biologics / Biotechnology Products, and she authored the recent Biosimilars Guidelines for Malaysia.
One of the main challenges of this section currently is regulation of 'biosimilar' products. She has been actively assisting and advising various stakeholders pertaining to the registration requirements and promoting the development of local content of industries and ensuring a supportive regulatory regime.
Being responsible for the overall planning and development of the Biotechnology Section of NPCB it envisages to complement the Malaysian Government's keen interest in facilitating the efficient, cost-effective and timely market access of biologics / biotechnology products.
She is well versed in biologics and biosimilars and has presented on these topics at various local and oversea conferences and scientific meetings. Her expertise in this area has been noted at the international level and she had been invited to be an expert in the WHO Drafting Group for consultation on regulatory considerations of the WHO Guidelines for Similar Biotherapeutic Products (SBPs). She contributed actively also in various training programs in biologics and other harmonization initiatives.
During the 14th International Conference of Drug Regulatory Authorities in Singapore she co-moderated the plenary session on Biosimilars and presented on behalf of World Health Organization (WHO) "Worldwide Landscape: Biosimilar Oversight". Last year, she contributed an article entitled "Regulatory Guidelines for Biosimilars in Malaysia" and was published in the Journal Biologicals 39 (2011) 339-342.