Mr. Ajit Shetty
Corporate Vice President Enterprise Supply Chain, Johnson & Johnson, New Brunswick, USA
Chairman of the Board of Directors, Janssen Pharmaceutica NV, Beerse, Belgium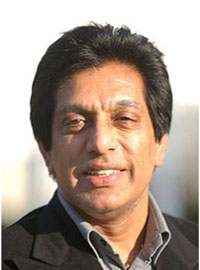 Experience and achievements
2007-2011 – Corporate Vice President J&J Enterprise Supply Chain
Brought into the HQ by the Chairman (Bill Weldon) to develop and institutionalize a major transformation in the supply chain. While maintaining a decentralized approach, leverage the diverse skills, breadth and scale of the enterprise to optimize the supply chain. This was achieved through streamlining the network, creating technology platforms, leveraging talent and bringing a customer-centric, holistic approach.Could result in an economic benefit of approximately $6-$7 billion in the areas of cost of goods, transportation, distribution, working capital, .....
Addressed the McNeil Consumer supply chain issues both in the short and long term through a more robust compliance and back up strategy.Developed corporatewide standards for quality, compliance and supply chain systems.
1999-2008– Managing Director Janssen Pharmaceutica Belgium
1991-1999 – Executive Vice President Finance
Member of a team that drove the expansion of the Janssen Group of Companies on a global basis from a $1 billion division to a $8 billion division through geographical expansion in emerging markets and growing commercially successful products as Risperdal (schizophrenia), Durogesic (pain), ..... etc.
Also built up a tax optimised, compliant and efficient Pharmaceutical Supply Chain with an excellent track record in launching new products and sustaining the growth of existing products. Infused new technologies (spray drying, .... etc.) that built a great competitive advantage for in-licensing products from third parties.
1984-1990 – President Janssen Pharmaceutica U.S.
Launched Janssen US in the largest pharmaceutical market with the registration of novel new compounds (Hismanal (antihistamine), Alfenta (analgesia), ....) and effective commercialization to create a successful product portfolio base. Was responsible for the licensing in of the 1st transdermal pain medication Durogesic that went on to become the 4th largest J&J product in 2008 (sales $2 billion).
1976-1984 – Various positions in Business Development and Finance culminating Vice President Finance Janssen Pharmaceutica Belgium
Worked in Business Development to launch and expand the Janssen group of companies within J&J labelled as "A Multinational within a Multinational".
This provided a platform to fuel the explosive growth of the company under Dr Paul Janssen one of the most prolific pharmaceutical researchers in this timeframe.
As Vice President Finance created the legal entity that today serves the platform for the J&J International Treasury Activity managing today approximately $25 billion offshore.
To Connect and Network with Mr. Ajit Shetty Click Here